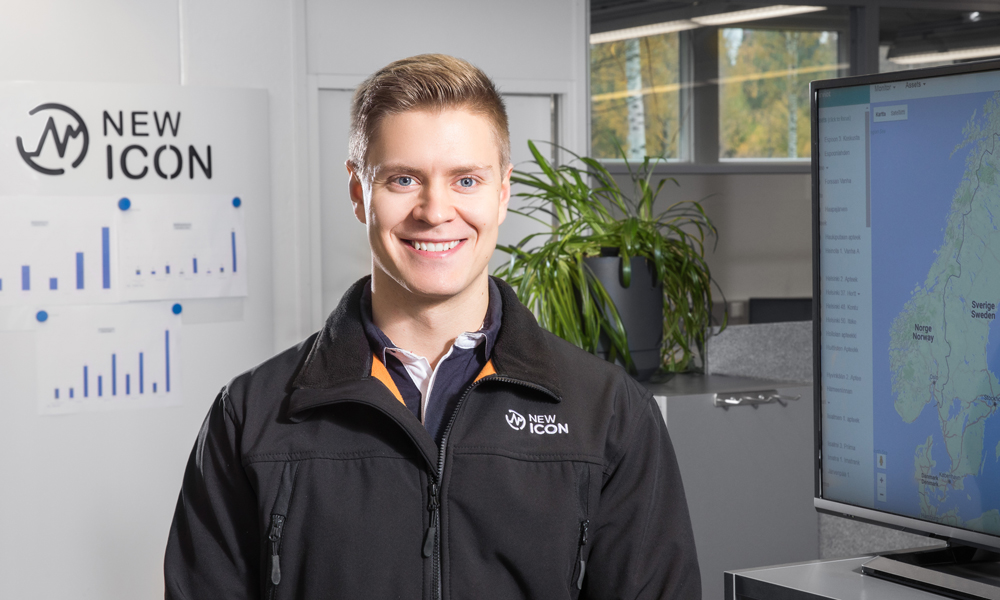 In maintenance, NewIcon is strongly committed to customer focus and preventive measures.
Our service team and the systems that make operations easier are key elements of this. Abroad, the distributors of NewIcon are responsible for maintenance. They are trained to follow the same service concept we follow in Finland. NewIcon currently works on a project to draft country-specific action plans to guarantee smooth high-quality maintenance everywhere in the world.
"Usually the maintenance process starts with the customer contacting our service hotline. We can handle a number of failures using a remote connection that gives us direct access to the computer of the customer's device. If the error requires a visit on-site, we will first check the spare part and work situation. We have assigned maintenance areas according to geographical location, and in most cases our experts arrive even faster than our customers expect. We always aim to fix any issues within one business day," Service Manager Veikko Rusanen explains.
To assist the service team, we have got our ERP system and systems for mobile work that, among other things, enable the team to check the spare part situation and the technical data of our products as well as to create a task calendar and schedule. We are also piloting a control system that alerts automatically in real time if there is a device failure anywhere in the world or if updates, for example, are needed. We always notify out customers beforehand if we are going to perform remote repairs to their devices. However, we aim to tackle any issues before the customer even notices or suffers from the fault.
The NewIcon maintenance workers understand the importance of communication
The autonomous NewIcon maintenance teams comprise of experts in different areas. While the teams emphasise learning by doing, the maintenance crew also organises their own training days, with particular focus on customer service.
"Customers have given good feedback on our 'maintenance workers that actually talk.' The customer must know who the maintenance worker is, what they are going to do with the device and what the result was. Our maintenance workers are independent, they plan their routes themselves, and they communicate with their customers. Since we work together, there is no need for daily supervision," explains Mr Rusanen, praising his teams.
From maintenance to product development
The documentation and quality control of maintenance work is an important part of the maintenance process. The collected data is submitted to the NewIcon Quality Control Engineer who uses the information to compile a monthly report. It allows us to take corrective measures and propose improvement ideas to the product development team. NewIcon's aftersales team works in connection with the maintenance organisation, managing the product updates of devices that are already in use.
"We continue to develop our products and services in a way that enables the installation of new parts and updates to existing devices. New features improve the operational reliability of the devices, and the multi-product channel feature is an example of a part that has made it possible to expand the storage capacity of our customers' storage robots. We want to develop solutions that benefit our customers, which is why our operations are based on rational thinking and customer focus," says Service Expert Mika Lipponen.
Action plans for service and maintenance challenges abroad
Outside Finland, our distributors and their maintenance teams are responsible for the maintenance of our devices. NewIcon trains the distributors according to the same operational principles as are used in Finland and provides background support for the maintenance teams. In the UK and Denmark, NewIcon operates via its subsidiaries and constantly develops its own maintenance operations while business grows.
Country-specific action plans for maintenance that provides customers with smooth high-quality maintenance in each country are currently being drafted. Among other things, the action plans include illustrated instructions and video tutorials for maintenance operations as well as guidelines for procuring spare parts and information on customs regulations, for example. Outside Finland, any country-specific maintenance challenges must be taken into account.
"You cannot always be prepared for everything. The craziest situation I have ever encountered was water damage that occurred in a Russian pharmacy. The pharmacy is located in the bottom floor of a block of flats. A burglar had broken in to the flat of an older lady who lives directly above to steal her VHS player, and also knocked over a flower vase in the process. The water ran down the air conditioning duct into the pharmacy and broke the collection robot controller. Due to the required documentation and customs declarations it took longer than usual to get the spares, but we finally managed to handle this situation as well, and the customer was happy," says Mr Rusanen, laughing.