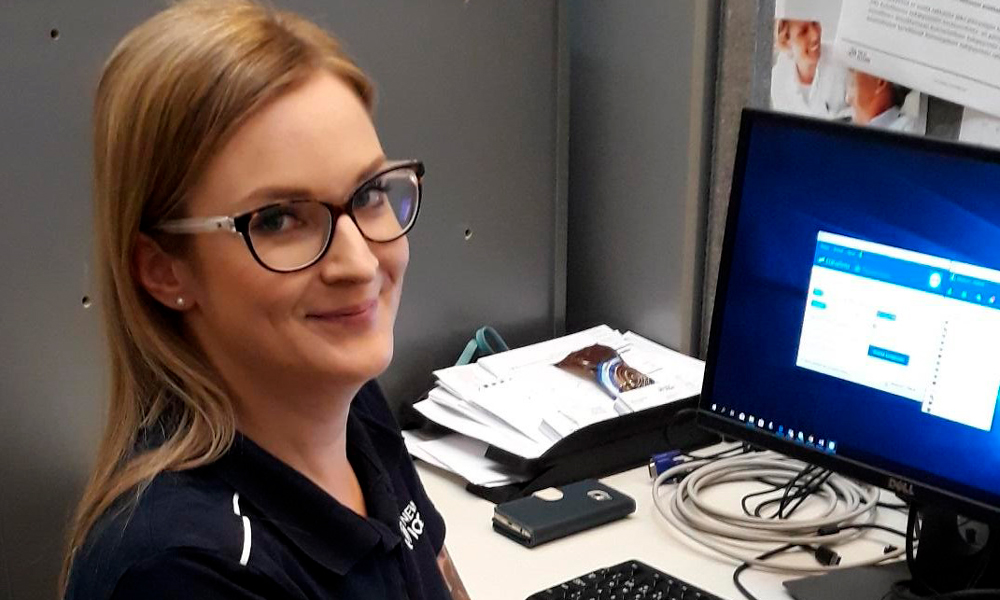 "Before I started working in NewIcon as a service assistant, I worked at a pharmacy. I started my  career in 2008 in the Keskus Apteekki pharmacy in Lempäälä, where I worked as a technical worker while training to become a pharmacy technician."
"My job at the pharmacy involved working at the cash desk, billing and taking care of pharmaceutical logistics. I also worked as the main user for the automated dispensing system.
When I started working at the Lielahti pharmacy in Tampere in 2013, they purchased an Iso-Fixu automated dispensing system from NewIcon. I've always been interested in robotics and automation, and my enthusiasm grew when I participated in NewIcon's training and saw how automated dispensing systems are built. That's when I decided I want to work in a company that manufactures pharmacy automation systems.
I kept contacting NewIcon, and finally, there was an opening for me as a service assistant in May 2018. In my job, I value the connection to our customers the most. Customers can always contact me: I receive support requests and give advice on problems related to Iso-Fixu, such as recovering from blackouts and dealing with communication breaks between the automated dispensing system and the pharmacy system."
Experience from pharmacies is useful in my new job 
"My work experience from pharmacies helps me in my work as service assistant, since I 'speak our customers' language.' I share the pharmacy personnel's experience with the automated dispensing systems, which makes it easier for me to understand specific issues. In fact, I received very positive feedback from the owner of the Palokka pharmacy, the site of my first maintenance job. The pharmacy owner said I was customer-focused and efficient. The personnel also thanked me for the easy-to-understand instructions, which would allow them to solve the issue by themselves, should it re-occur.
Purchasing an automated dispensing system is a big decision in many ways. In my experience, Iso-Fixu allows the pharmacy personnel – technical workers, in particular – to focus more on helping customers. You get to spend more time with customers when the dispensing system takes care of storage and finds the correct medications. I would start my day at the pharmacy by switching on the robot, and it would start sorting medicine packages without me having to watch over it.
The automated dispensing system will require you to change your work processes, and you will need to learn new things. However, you shouldn't worry about using the system. It's nearly impossible to break it even if you push the wrong buttons sometimes. After you've received your training, you should just go ahead and start using it. NewIcon offers training for users when the automated dispensing system is being installed, as well as specific training later. We also offer additional customised training on using Iso-Fixu, so you will not be left alone with any questions regarding the robot."
More information
Minna Eerola, NewIcon 
Service assistant