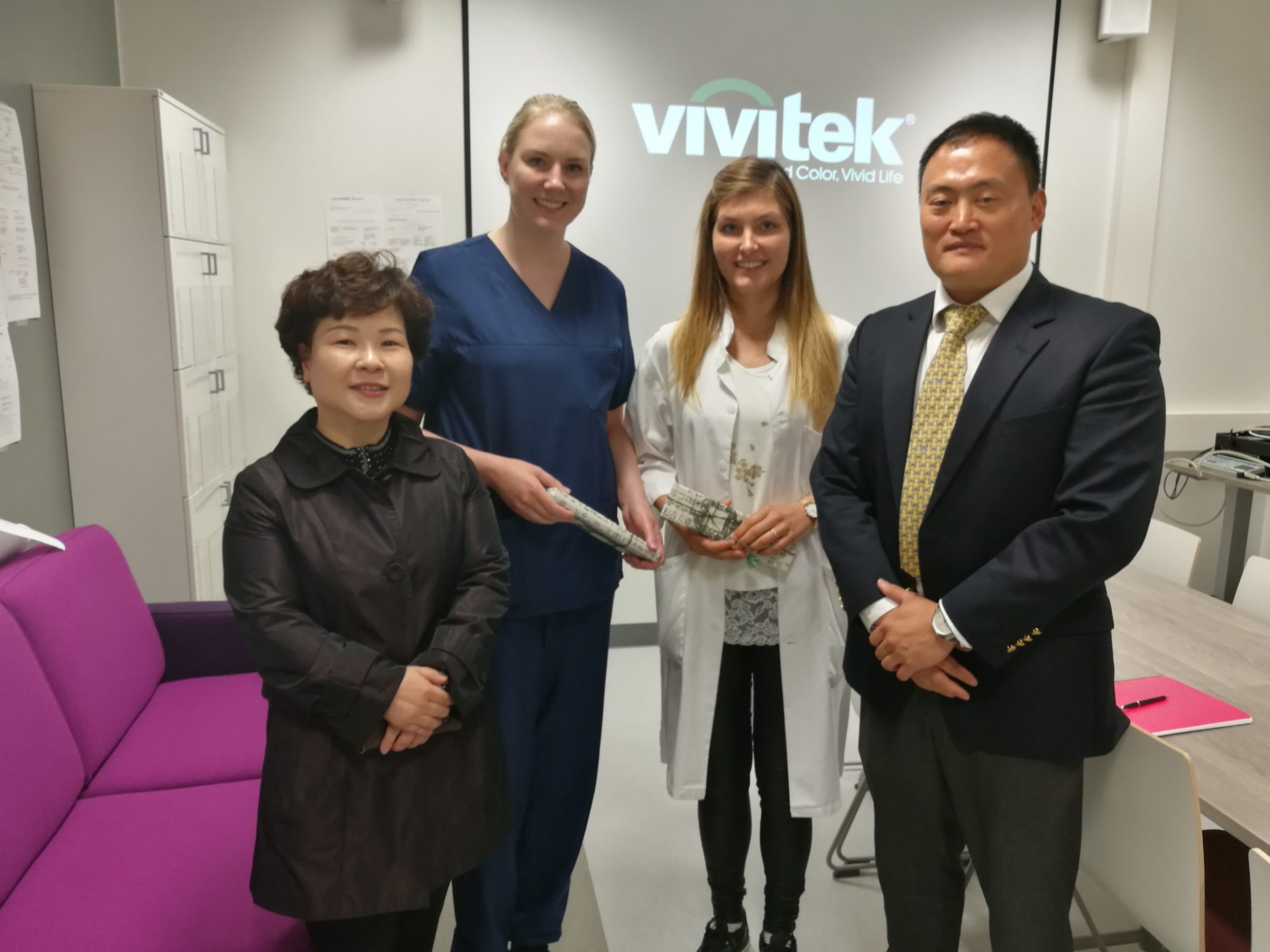 A delegation from nine Korean hospitals explored the Finnish health care system in June 2019. The delegation led by NewIcon and ICONcare by BTB Company Ltd from Korea was able to visit Finnish hospitals that have introduced pharmacy automation.
Taking part in the delegation was YunHee Jo, Assistant Director of Pharmacy from Seoul National University Hospital. She sat down with us to discuss the state of pharmacy automation in Korean hospitals.
How many hospitals are there in Korea?
384 hospitals.
Does Seoul National University Hospital (SNUH) have many hospitals?
SNUH has three hospitals: SNUH Seoul, SNUH Borame and SNUH Bundang. SNUH is one of the top hospitals in Korea – and a leading hospital for medical teaching as well.
How would you describe the state of pharmacy automation in Korean hospitals?
In Korea, the introduction of pharmacy automation has only just begun. That said, multidose dispensing automation systems are widely used in hospitals and community pharmacies. A few hospitals use automatic dispensing cabinets for injection vials and ampules.
How many Korean hospitals are investing in automation?
At least 43 Upper General Hospitals are interested in cytotoxic automation systems. Samsung Medical Centre already deployed such a system in 2016. However, broader uptake of these systems will take some time.
What are the main reasons why hospitals in Korea are investing in automation?
The main priority is patient and pharmacist safety. Another aim is to improve the job satisfaction of hospital pharmacists – automation systems will enable them to focus on patient medicine consulting, education, double-checking prescriptions and multidisciplinary work.
How would you describe the state of pharmacy automation in Finnish hospitals?
The country has well-developed hospital facilities and infrastructure for pharmacy automation. The hospital pharmacy structure is also effectively organized. For instance, pharmacists work in the wards and provide support in dispensing medicine to patients and checking prescriptions.
I'm impressed by how Finnish hospitals proactively adopt pharmacy automation systems and use many different types of systems. They are also focusing on patient and pharmacist safety and the development of hospital pharmacy procedures.
All in all, Finland has a well-developed healthcare system. Hospital staff and pharmacists are wonderfully conscientious and comply with regulations and procedures. I felt that you can really trust them.
What could Finnish hospitals learn from hospitals in Korea? What are your best practices in pharmaceutical services?
Our clinical pharmacy expertise and our pharmacists' ability to work in multidisciplinary teams.
How do you see the future of pharmaceutical services in hospitals?
In the hospital services of the future, the most important thing is to put the patient first. All healthcare providers (physicians, nurses and pharmacists) should have a strong sense of vocation. Public hospitals also need to engage in financial planning and make the most of their limited budget for acquiring medical automation. They also need to come up with new ways of thinking about how to best organize and harmonize patient care procedures and relevant automation systems.
Was this your first time in Finland? Did you enjoy your visit?
This was my second visit. I enjoyed it a lot, especially the clean environment and people. It was great to learn about the Finnish healthcare system and see the high level of trust in society. Finns are quite different from other Europeans: they are more prudent and honest and are not pretentious.
More information
YunHee Jo
Assistant Director of Pharmacy
Organisation
Seoul National University Hospital
Contact information
www.snuh.org/global/en/main.do
Would you like to stay updated on the latest news? Subscribe to our newsletter.
Caption: The delegation visited Lahti Central Hospital. In the picture from left YunHee Jo, Anni Wartiainen, Essi Kokkinen and HyungSoon Shin.