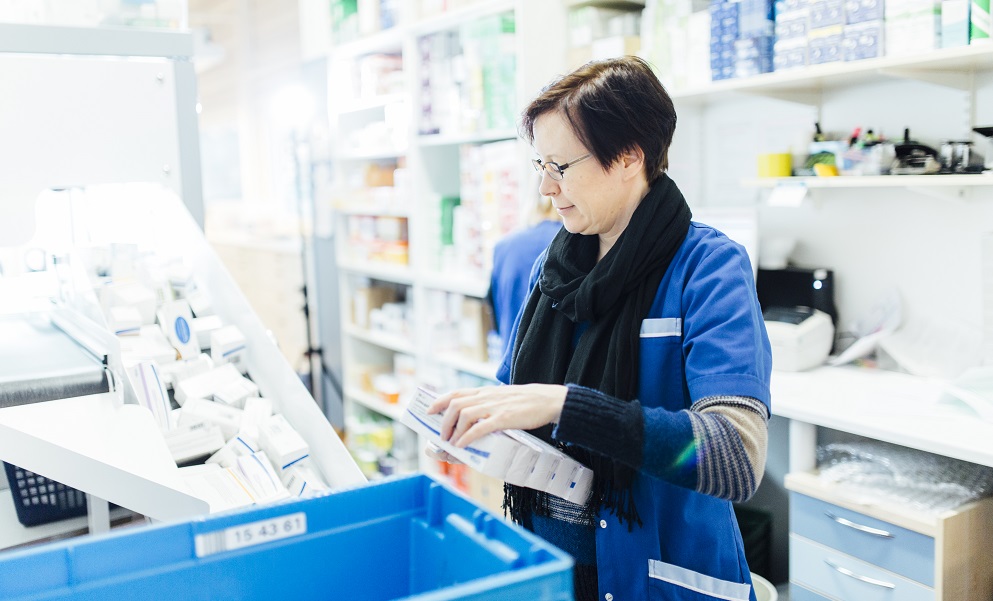 Vantaanportti Pharmacy modernized its operations in conjunction with its move to new premises.
It is one of the largest pharmacies in Finland and acquired a fully-automatic medicine storage robot from a Finnish manufacturer to deliver medicine packages quickly and reliably to the customer service desk. The robot also allows staff to spend more time on customer service.
The 3.6-meter-high robot located at the back of the pharmacy has a window in its wall where customers can watch the robot filling shelves and retrieving medicine packages.
The move to larger premises within a shopping center in Vantaa provided a natural time to invest in medicine supply automation. In addition to the fully-automatic medicine storage robot, NewIcon Oy from Kuopio, Finland, is also delivering other pharmacy technology to Vantaanportti Pharmacy. For instance, the prescription delivery point will have an additional order display where a pharmacist can order self-medication products from storage to a customer who has come to pick up a prescription drug. A good example of this is antibiotics, which are recommended to be accompanied by a course of lactic acid bacteria.
"We are also in the process of designing a function for the additional order display where the customer may personally order medicines from storage to the shop's information desk. All in all, we find that automation is a natural aid in the business operations of a modern pharmacy," says Jari Kiviranta, Head of Pharmacy.
More information
Vantaanportti Pharmacy
Jumbo Shopping Center
Jari Kiviranta
Head of Pharmacy
Tel. +358 44 069 4017
jari.kiviranta@salnet.fi
http://www.vantaanportinapteekki.fi
NewIcon Oy
Jori-Matti Savolainen
Marketing Director
jori-matti.savolainen@newicon.fi
tel.: +358 (0)50 3398730
www.newicon.fi
VANTAANPORTTI PHARMACY was founded in 1958 as the second pharmacy in Vantaa. The pharmacy moved from Vantaankoski to Jumbo Shopping Center in October 1999 and was one of the first businesses to open in Jumbo.
NEWICON OY is a health technology company founded in 2007 and located in Kuopio. It currently employs about 50 personnel. Turnover in 2014 was approximately 4 million euros and business is growing strongly. NewIcon is the market leader in pharmacy storage automation in Finland. The company's roots go back to industrial automation where the company is a well-known supplier in extensive projects for large industrial players. In recent years, NewIcon has honed its skills to become a professional in automation solutions for medical suppliers and has delivered systems to already almost 50 pharmacies and hospital pharmacies. The company uses the certified ISO 9001 quality management system.
Read more: