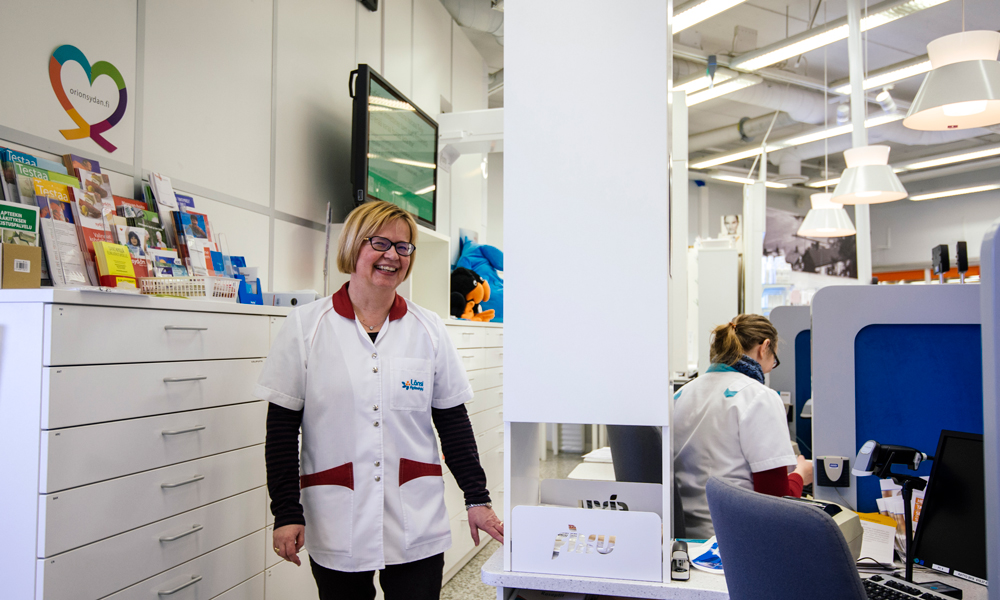 Published 2nd of June 2017
"The Iso-Fixu collection and storage robot could barely be fitted behind our customer service counters. The passage is now only about one metre wide, though we are very pleased with the end result.
The system works very well so that the lack of space is not a problem for us at all. Earlier, we had a whole lot of small accidents when working behind the four customer service counters: The doors of the medicine drawers were occasionally left open, and things sometimes fell on us from the top shelves. Now we haven't got any of these problems anymore as we selected the conveyers that bring the medicine packages all the way to the desk.
Together with a pharmacy designer, I had already selected the place for the robot in 2008 when we moved to our premises in the Lielahden Citymarket commercial centre in Tampere, Finland. During the installation phase in 2014, I was a little worried as to whether the Iso-Fixu robot would fit in the space we had reserved for it. I am sure that our pharmacy was a challenge to the Iso-Fixu installers. Fortunately, we only had to move the customer service desks a little.
I wanted to maximise the space available for customer service, which is why we needed the most compact storage system available for the prescription medicines.
This was the highest priority when I started planning the purchase of the Iso-Fixu. We need space for other products that generate additional sales, such as products that help you to take care of your muscles: we encourage our customers to exercise and we also sell health products.
The goods reception area has also been put into effective use. The wholesale packages that arrive at the door can be easily moved close to the Iso-Fixu. I do not think that we would even need any more space here. We selected the Iso-Fixu with the automatic feed, which I think is an essential feature. It has made our job a lot easier and faster."
More information
JAANA LEHTOMÄKI
Pharmacy owner
Tampereen 9. Länsi apteekki Pharmacy
Installation: 3/2014
Read more:
Would you like to stay updated on the latest news? Subscribe to our newsletter.