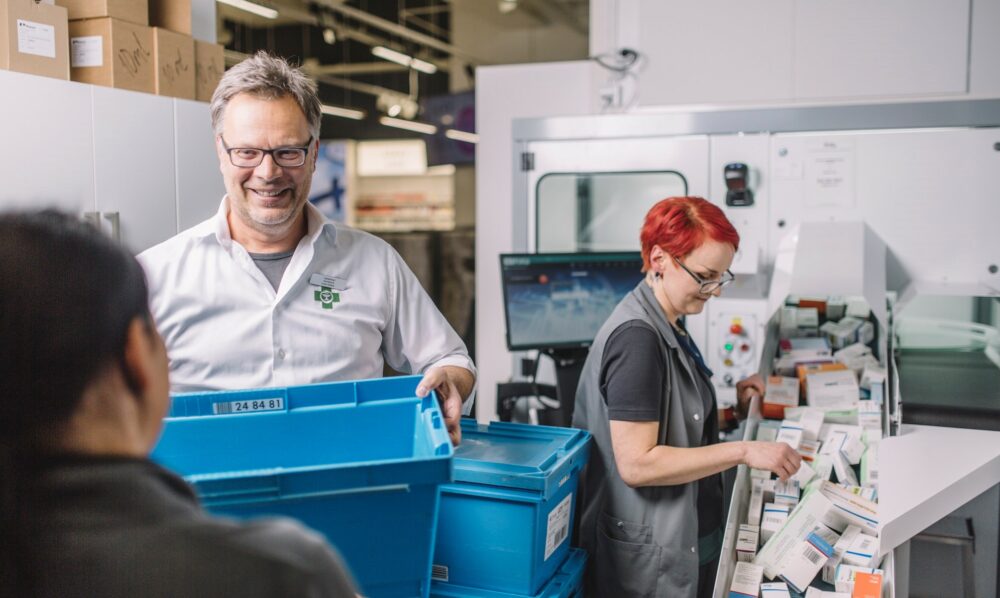 The space plan of the Laajasalo pharmacy showed that there would be up to 0.5 metres of unused space left above the Iso-Fixu automated dispensing system. A decision was made to fine-tune the original dimensions as it was easy to put the valuable space to use thanks to the modular structure of the ADS. Every 10 centimetres upwards added space for about a thousand small medicine packages.
"Increasing the height was as easy as building with Legos. The extra capacity came in handy as our new pharmacy operates in the Saari shopping centre in the fastest growing district of Helsinki", pharmacist Jussi Kalsta rejoices.
"The old drawer system would have been an obstacle to our growth, whereas an efficient and reliable automated dispensing system allows us to grow", Kalsta adds.
For an efficient pharmacy service path
Kalsta also decided on the purchase of an automated dispensing system due to the location of his new pharmacy. Increasing customer flows and long opening hours favoured automation of operations to ensure tolerable workloads on the staff and rapid customer service.
"The fewer pairs of hands touch the medicine packages, the more efficient our operations are. NewIcon and our pharmacy designers Laura Keskitalo and Hanna Tanskanen from Shop Solutions Oy carefully considered the service path of our pharmacy", describes Kalsta.
Leasing funding enabled automation procurement
Kalsta says that the ADS has also allowed the careful optimisation of the customer's transaction at the pharmacy.
"We handle up to 80% of prescription medicine deliveries in less than five minutes. We have designed our work around the ADS so that deliveries are as smooth as possible", says Kalsta.
In addition to the operation of the new pharmacy, its costs also had to be considered in connection with the move. Kalsta only brought his desk and chair with him from the previous pharmacy. All other pharmacy fixtures were left on the old premises.
"For this reason, the leasing funding provided by NewIcon was just the right solution for my needs, allowing the procurement of the automated dispensing system in the first place", Kalsta estimates.
More information
Laajasalo pharmacy
Pharmacist: Jussi Kalsta
Staff: 20
Annual prescriptions filled: approximately 100,000 (2019)
Fixu commissioned: 11/ 2018
Site: New premises in a shopping centre
Project partners: NewIcon Oy and Shop Solutions Oy
Photo: Medicine packages are tipped from storage boxes onto the input unit conveyor of the Iso-Fixu automated dispensing system. Pictured are pharmacist Jussi Kalsta, Pharmaceutical Technician Viivi Kaksonen and technical employee Milla Vivolin.
Would you like to stay updated on the latest news? Subscribe to our newsletter.