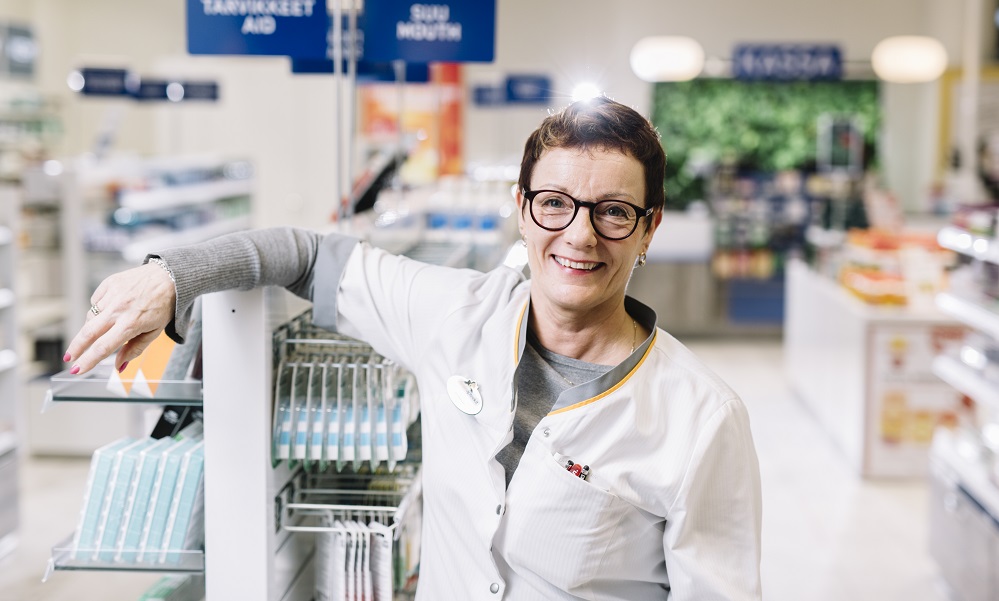 In September 2018, pharmacy owner Leena Melartin closed the doors of her pharmacy in Helsinki's Sörnäinen district and opened new premises in the brand new Redi shopping centre in Kalasatama, Helsinki. The new pharmacy is also equipped with an Iso-Fixu automated dispensing system (ADS) to ensure the quality of pharmaceutical service.
As soon as the move was decided, Melartin knew that she wanted an automated dispensing system in her new pharmacy.
"Automation is the norm nowadays, and the ADS helps us serve the larger number of customers of a shopping centre pharmacy more efficiently. I also think of Iso-Fixu as an investment – if I decide to sell the pharmacy one day, the ADS will increase its value", says Melartin about her investment decision.
Iso-Fixu has made the pharmacy staff's work faster and easier. Thanks to the automated dispensing system, customer service is less hectic, allowing staff to serve each customer even better than before.
"For us, the most important quality criterion is the absolute reliability of the pharmacy robot and its technical support."
"There has been no need for maintenance yet, but with NewIcon, we can rely on support whenever we need it. Things such as these have a significant impact on the everyday running of our pharmacy", Melartin says.
New, easily accessible, and spacious premises
Melartin's previous pharmacy, located in the Sörnäinen district of Helsinki, was a little brick-and-mortar pharmacy on Hämeentie. Since the new pharmacy is located in a new building, she could design it from the ground up.
"Besides the automated dispensing system, I love the light and space in the new pharmacy. It is very spacious and easily accessible. This is a great improvement from what we used to have – even the front door was so heavy that it took quite an effort to open", Melartin says with a laugh.
Melartin made the decision to invest in an Iso-Fixu more than a year before the Redi shopping centre and her new pharmacy opened in Kalasatama, so she had plenty of time for planning and designing.
"During the final stretch of the construction project, we noticed that the pharmacy ceiling was lower than we had originally thought. We had to change the dimensions of the Iso-Fixu on the spot, but everything went very smoothly. I think that says something about the quality of NewIcon's service", says Melartin.
After its opening, Redi has been criticised for its labyrinthine corridors and for lacking signage.
"Time will tell how quickly people discover our pharmacy, and how quickly Iso-Fixu will pay for itself.  However, I am satisfied with the investment and our new premises", Melartin concludes.
More information
KALASATAMA PHARMACY 
Owner: Leena Melartin, Pharmacist (M.Sc.)
Staff: 15 employees, 1 pharmacist
Annual prescriptions filled: 60,000 (2017)
Iso-Fixu installed in September 2018
LEENA MELARTIN, PHARMACY OWNER
Operated her own pharmacy since: 2012
Hobbies: Summer house, paddling, cycling, telemark and crossfit
Motto: If you want something done, you need to do something about it
What do you cook for friends and family: Meatballs
Read more:
Would you like to stay updated on the latest news? Subscribe to our newsletter.