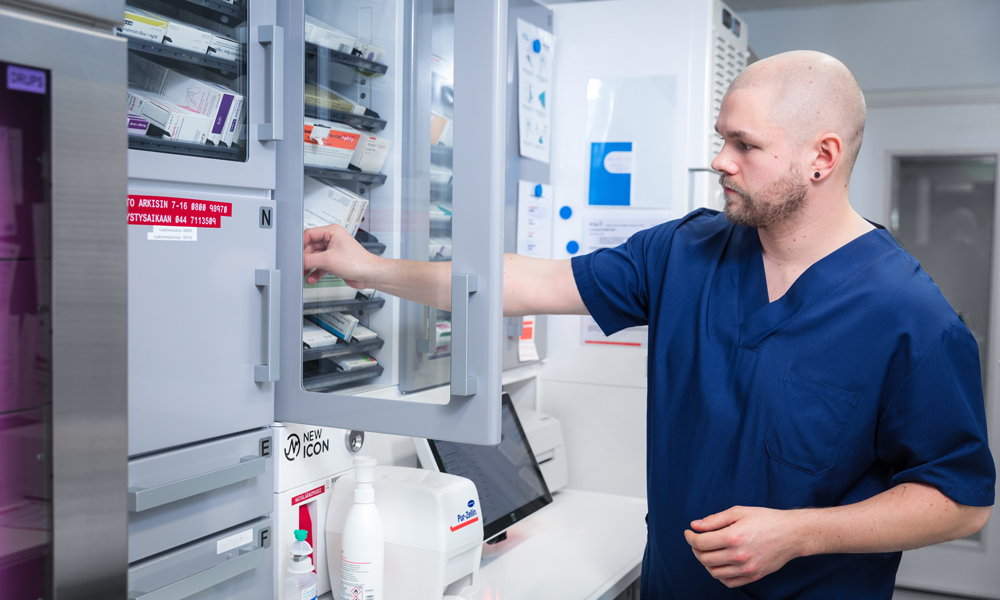 Published 5.12.2018
The challenge:
The new hospital building of Kuopio University Hospital was completed in 2015. The hospital's planners wanted to modernise its procedures and automate processes with the aim of improving medication safety by eliminating the human errors that had occurred in, for example, medicine dispensing.
Another area that received a great deal of attention during the construction phase was the asepticity of the operating theatres. The unnecessary movement of personnel in the theatre during operations, for example, when getting medicines from other rooms or filling medicine cabinets.
In the old hospital, staff were uncertain of when the medicines were transferred from the hospital pharmacy's ownership to the ownership of the hospital ward, which added another needless complication to their work. The pharmacists had to function as pharmacy technicians and were unable to make full use of their expertise. The hospital pharmacy had to maintain a large mandatory reserve supply, which resulted in a lot of medicine waste.
The solution:
Kuopio University Hospital considered automated dispensing cabinets, but none of the solutions on the market seemed fast or efficient enough. KUH then turned to NewIcon for assistance, and this fruitful collaboration gave birth to the eMED ICON automated dispensing cabinet.
The innovative eMED ICON automated dispensing cabinet can be installed in the walls of treatment rooms, with the medicines dispensed through the wall, which improves asepticity. The patient's immediate environment is calmer, as the automated dispensing cabinet is filled from outside the room.
Read more about its features >
The result:
Safety 
Medication errors were decreased and patient safety improved.
Unnecessary movement in the operating theatres lessened and asepticity improved.
Efficiency
Less capital had to be tied in the hospital pharmacy's mandatory reserve supplies, which contributed to the funding of the automation investment.
The need for stock-taking decreased, and the disparities noted in the inventory lessened.
Medication processes were harmonised.
Medicine stock levels and wastage were reduced on wards due to faster circulation of medicine.
The recycling of expired medicines increased.
Rationality 
Work became more meaningful.
Work stages and responsibilities were defined better.
The pharmacists were freed to perform duties corresponding to their training.
Nurses had more time for nursing.
The user-friendliness of pharmaceutical logistics improved.
More information
KUOPIO UNIVERSITY HOSPITAL
Kuopio University Hospital (KUH) is one of Finland's five university hospitals. KUH is responsible for providing demanding specialised health care to nearly a million residents of Eastern and Central Finland.
KUH's annual key figures:
90,000 patients treated

360,000 outpatient clinic visits

2,500 deliveries

22,000 operations
·          Staff:
eMED ICON automated dispensing cabinet:
First installed in 2015

More than 65 cabinets in use
Other pharmacy automation systems delivered by NewIcon:
Mega-Fixu automated dispensing system

IV ICON compounding system
Read more about our hospital pharmacy automation products:
Would you like to stay updated on the latest news? Subscribe to our newsletter.