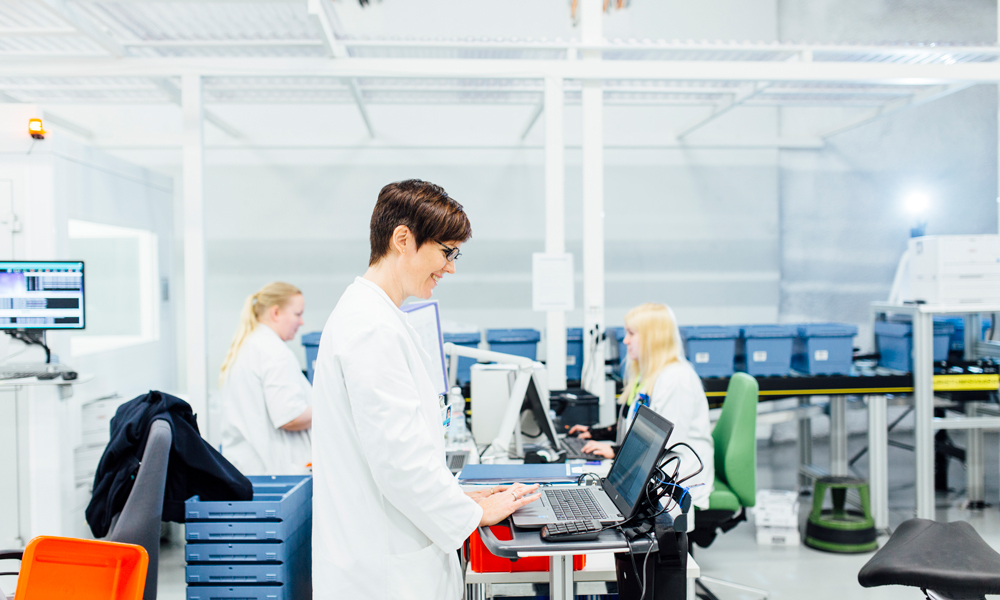 Published 21st of April 2016
Finland's largest hospital pharmacy, HUS Pharmacy in Helsinki, has carried out everyday operations with Mega-Fixu for six months now. Switching over to using an automated dispensing system had a clear goal.

"We are more productive now that we can free our employees' hands from mechanical storage work to more rational jobs. The goal is to have our pharmacists work more on clinical pharmacy, closer to patients in hospital wards," says the leading pharmacist of HUS Pharmacy, development manager Marita Saanila-Sotamaa.
Involved in the operations is the world's largest automated dispensing system, which has two robotic arms feeding 4,000–5,000 medicine packages into the storage a day. Four other robots collect and shelve packages in the morning at a rate of 1,500 packages per hour. In addition to these, one robot places lids and address notes onto ward crates. These seven robot arms are in charge of a storage with a capacity of 150,000 medicine packages.
Saanila-Sotamaa feels that due to the social and health service reforms and other changes in Finland, there is a growing need to get closer to the patient. Smart devices and automation make this possible.
"We will switch over to automated dispensing cabinets, an antibiotics compounding system and chemotherapeutic agent dilution automation, in order to bring our personnel close to the patient and to better duties in terms of work ergonomics.
The train moved quickly

After a precise and negotiation procedure-based procurement process, the pharmacy had a clear idea of Mega-Fixu. Before making the decision, the pharmacy had deep discussions with NewIcon and examined a similar solution at the Kuopio University Hospital. In other words, there were no surprises.
"But the whole system turned out to be quite large when it was brought here physically," says Saanila-Sotamaa with a laugh.
The system is four metres high and 35 metres long.
The chain of events that began after the procurement process has been described as being very fluent by the people of HUS.
"The operation was simply superbly fast. We made the agreement in April, the construction work began in late June, and in late August, we were already in the testing phase. The construction was incredibly fast. But we did make the lead time a central criterion when choosing the supplier."
There were some small problems, though. When the machine had already been put together, it was discovered that the floor coating in the underground facility was unusable. The floors had to be sanded and re-coated.
"Getting the storage robot properly sealed was an operation in and of itself. We had to make sure that no paint dust got into the machine. It took a few weeks, but luckily everything worked out well in the end."
Good project team behind the success
As a tip to others planning a similar project, Saanila-Sotamaa says:

"Make sure you have a good project team. Invite the best and most enthusiastic people who are not afraid of technology. At least for us, this was crucial to succeeding! It's all about the people, even though we are talking about robots and automation."

She feels that being involved in the project was also an excellent learning opportunity for the team.

"It's a unique opportunity to be involved in a project of this magnitude.
I believe that the pharmacists, medicine workers and other experts will look back on the Mega-Fixu project, even when they are retired and sitting in a rocking chair."
A learning experience like no other
Pharmacist Laura Sazonov, who was involved in the automation project team, is glad to have had the opportunity to be involved in this large project.
"I was already interested in automation and the possibilities it offers. I had never worked with anything similar, so I looked forward to seeing how various things would work in practice," says Sazonov about her feelings before the project began.
Sazonov says that she is quick to become excited about new things.
"I enjoy learning how different devices and processes work. The automation project was both fun and challenging. I feel I learned a great deal about how testing things should be planned and carried out. Furthermore, I now have a good understanding of the logic the machine operates with, at least on a user level. This will help with practical problem-solving considerably."
New enthusiasm for work
Since the robot was introduced, Sazonov's work has become more varied and interesting. Her work now involves more planning of new operation methods and many kinds of rewarding problem-solving.
"I enjoy my work like never before. I hope our pharmacy will remain progressive and we will continue to seek new ways to carry out medical care of the future in innovative ways," she says.
Sazonov says that commissioning the robot was surprisingly easy, even though the project was on a tight schedule. Moving products into the system will continue for some time, as the commissioning has to be carried out incrementally alongside other operations.

"Things often have to be moved forward very quickly and can't be delayed by a single day. For me, this has occasionally meant longer workdays, but I'm sure the end result will be worth all the trouble. I like the fact that the operation of the system has been actively developed throughout the commissioning process ‒ the machine wasn't supplied as a rigid, ready-made package, but it was modified to suit our particular needs," summarises Sazonov.
More information
HUS PHARMACY
Pharmacy owner: CEO, Head of HUS Pharmacy at Hospital District of Helsinki and Uusimaa (HUS) Kerstin Carlsson
Personnel: 6 HUS Pharmacy offices with a total of 21 pharmacists, about 130–140 pharmacists, about 50 medicine workers, 5 maintenance workers and a few office workers
Lines of items delivered annually: 855,000 (2015)
Medicinal products: 141,011 pcs
Chemotherapeutic agent doses 65,053 pcs
Dose distribution bags 2,055,306 pcs
Commissioning of Fixu: 1 / 2016
Site: HUS Pharmacy's new underground facility
Project co-operation partners:HUS Pharmacy, HUS Real Estate, HUS Facilities Centre, HUS IT Management, HUS Logistics
Read more:
Would you like to stay updated on the latest news? Subscribe to our newsletter.