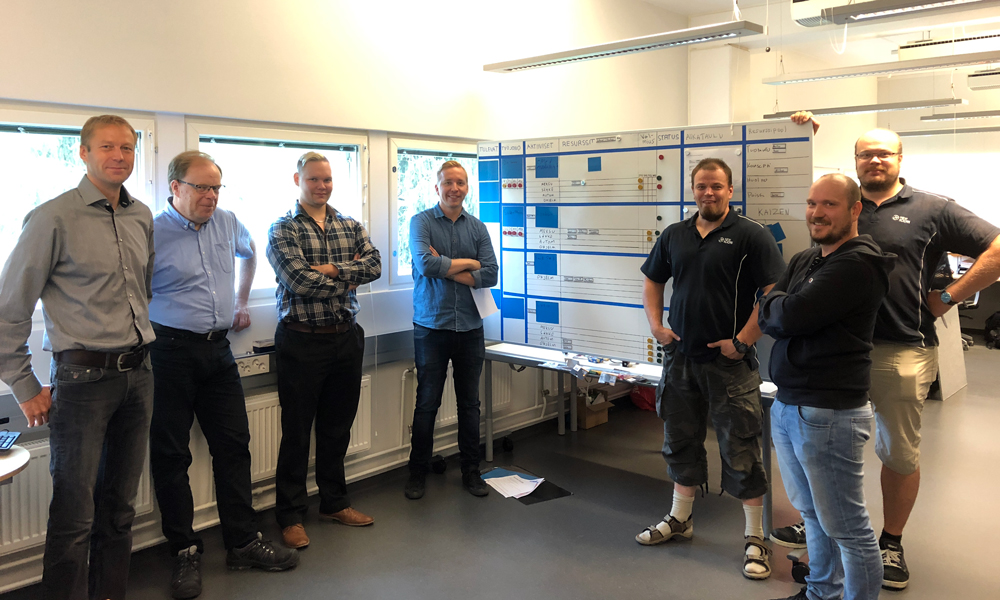 The routines of the NewIcon product development team are currently being shaken up – the goal is to constantly improve the processes using the Lean principles.
The team started to use a Lean board in August. The board is used for writing down any ongoing and new projects, as well as their status. The whiteboard in the R&D premises is one of the tools NewIcon uses for work-flow optimisation.
Research and Development Manager Perttu Kainulainen is in charge of developing the Lean board. The planning started in April 2018, and the first prototype board was adopted in mid-August. The final board will be finished by the end of the year. Simplicity and transparency are at the centre of everything.
"We gather in front of the board every week and go through every project and the potential problems and challenges. If situations change, we can correct our course immediately. With the board, we can manage the collaboration between teams and use resources more effectively," Kainulainen says.
Every employee can see the status of each project at a glance by looking at the visual Lean board. They get a comprehensive view of what is happening in their work which will reduce interruptions in their work significantly.
"When we use a daily management model, we can ensure better communication, which is an important element in multi-level development projects. Once a project starts, we won't have any unresolved matters related to preparations," Kainulainen states.
50% faster product development process 
Lean has been a part of NewIcon's operations since 2015. Juha Anttila, the COO of NewIcon, says that the change has required strict discipline.
"This year, we also started applying Lean principles on our product development. The purpose of this development project has been to make our complex projects simpler and clearer. With this method, all our projects use the same procedures and processes," Anttila says.
Our internal slogan is "let's not run faster, let's make the trip shorter." Innovation continues to be key in our company culture. The motivation and attitude of the employees have also improved throughout the organisation, and there are fewer cases of people "going solo."
"This has been a significant change to our established routines and affects the thinking of the entire company and our employees. Now, we're using Lean as a guideline, and we have chosen a couple of Lean tools out of many to focus on."
When adopting Lean for the first time in 2015–2016, we made value stream mapping for our main products.
"These analyses showed the things we actually spend our time on during the delivery projects. Since then, we have used this information as the initial data and starting point for our product development. Using these analyses, we have created an objective and started to work towards."
Our product development team has determined that they want to focus on improving the processes and shortening the turnaround times. They have paid special attention to customer feedback and improvement ideas. Our goal is to reduce the length of our product development process by 50% by focusing on getting an accurate and well defined start for each project.
"We thrive on the introduction of new products. We can now better predict the turnaround times in product development and be successful on the international market," Anttila says, summarising the benefits of the new principles.
More information
Picture: SCM-Manager Mauri Kankkunen (on the left), Project Manager Petri Pitkänen, Senior Mechanical Engineer Jyri Lyytikäinen, Research and Development Manager Perttu Kainulainen, Automation Team Leader Mika Rissanen, Product Maintenance Engineer Janne Huttunen and Team Leader Juhani Kolehmainen are excited to see what the Lean board will bring to their work.
Read more about our products:
Pharmacy automation in hospitals
Pharmacy automation in pharmacies
Would you like to stay updated on the latest news? Subscribe to our newsletter.