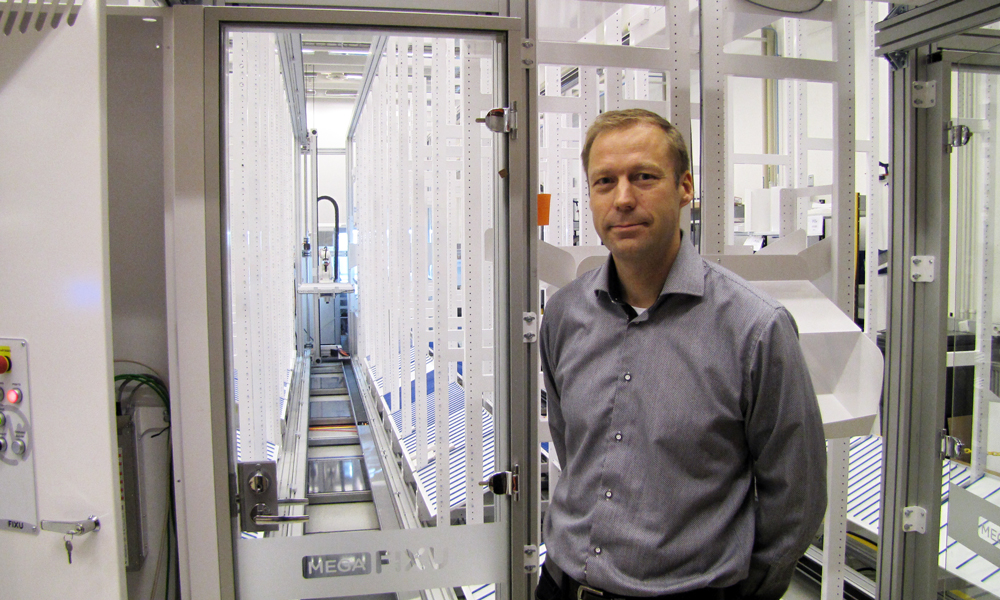 The product lifecycle management (PLM) project is one of the new internal development initiatives at NewIcon.
The technical data of the automation systems is entered systematically into the PLM system, meaning that sharing, refining and re-using the data becomes easier than before. The product data compiled into the system is available reliably in real time – work that has been done once never needs to be re-done.
"PLM covers lifecycle management in its entirety, even after the delivery of a pharmacy automation system. It's a management system for product items, structures and documentation, such as drawings and 3D models, to be used by our engineers. We are currently creating conditions for a fast engineering and management process," says Mauri Kankkunen, NewIcon's Supply Chain Manager.
When all product data is in the same place, it becomes easier to manage the product's entire lifecycle. Documentation will be more readily available for products being sold. The engineers can manage the statuses of products and items: are they being engineered, is the engineering process finished, or are they approved for production?
"With the modulation of the eMED ICON automated dispensing cabinets and the PLM system, the length of the engineering process will be reduced from one week to hours," Kankkunen explains.
Uniform standards for product items
As NewIcon grows, the number of product items also grows, and this increased number needs to be managed more smoothly. Now, uniform standards will be applied to the items, and outdated or overlapping items can easily be removed. Kankkunen says that the improvement entails analysing the item data of 10,000 parts – the change is quite substantial.
 "PLM will make our product item creation uniform. In the future, finding items will be much easier. The mechanical and electrical engineering data will be included in the same product structure," Kankkunen says, summarising the idea.
This way, both engineering departments will know the status of the other, and they can also benefit from the engineering done by the other. Possible future developments include the management of delivered systems and a product configurator that can be used for faster structuring of a sold product.
Cost saving from a reduced workload 
The PLM system will be officially commissioned in late January 2019. NewIcon has also been using product data management (PDM) for approximately three years. PLM became relevant after the adoption of the company's new ERP system.
"The engineering department is enthusiastic about PLM. They see that this is necessary. Every day, we encounter issues that can be solved with PLM," Kankkunen says, delighted.
Thanks to the extranet feature of the system, we can also grant subcontractors access to specific data. Sending documentation to a supplier seperately will be a thing of the past.
"PLM will reduce the workload considerably, which will lead to savings. Our goal is also to improve the turnaround of projects and the reliability and predictability of our deliveries," Kankkunen says.