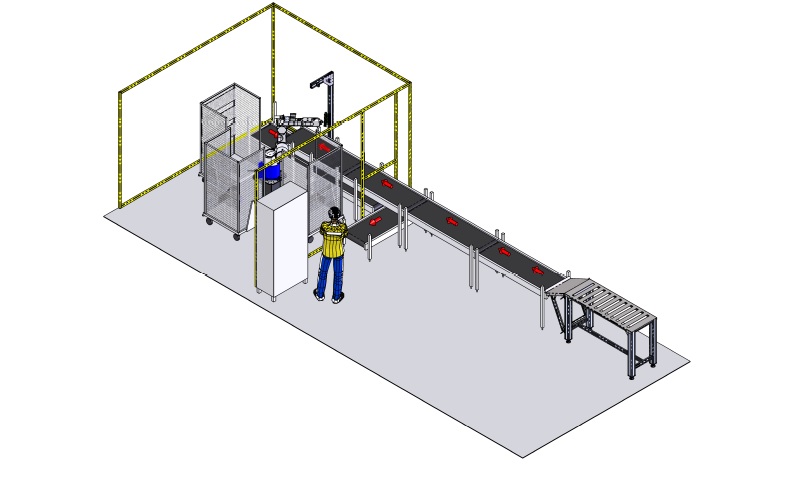 Health technology company NewIcon Oy and the Kuopio University Hospital Pharmacy have worked in close cooperation to develop a robotized unloading and caging system for infusion solution boxes.
The system is unique in the world and enhances medicine supply. As far as is known, it is unrivalled in the hospital sector. The idea to use robotics and automation to forward cardboard boxes in a centralized manner in a hospital pharmacy was born out of a practical need, as dust-forming cardboard is banned in Kaari Hospital, which was completed last spring.
"The forwarding of wholesale packages of infusion solution bags was assigned to our pharmacy as Kaari Hospital does not have adequate storage facilities. Large cardboard boxes cannot be handled along the corridors of wards, near customer facilities, because the dust from the boxes would reduce the quality of indoor air and easily drift through doorways into clean procedure rooms," explains Hospital Pharmacist and Head of the Pharmacy Department Toivo Naaranlahti.
Robotics was not originally considered as a solution to forwarding the boxes as the original plan was to do the job manually. However, the methods proved to be too laborious.
"The light bulb lit up in one of the meetings between pharmacy staff and NewIconers, where we discussed how to enhance medicine supply with automation on a more wider scale. The idea was brought up by NewIcon: could robotics also help in the centralized forwarding of infusion solution boxes? So it was a practical need that gave rise to the idea as we began to examine solutions together. It is important to us that the customer can be closely involved in product development," states Naaranlahti.
Fewer work stages on hospital wards
The outcome of product development was a system with multiple integrated technologies. For instance, a balancer makes it easier to lift the cardboard boxes that can weigh more than ten kilos each. A single employee can handle a total of thousands of kilos of boxes each day. A cardboard press similarly reduces manual labor, as it crushes the sturdy boxes after use. In addition, the system is equipped with machine vision, among other features, to verify the contents of solution bags, as well as a 6-axis robot that loads bags from the conveyor to a cage trolley.
"NewIcon's strength is that they can combine techniques familiar from the industrial sector with the hospital pharmacy environment," says Naaranlahti.
Especially the hospital wards will have fewer work stages, which makes the overall management of infusion solutions more practical.
"Previously, several people would forward packages, whereas now the work is centralized to our pharmacy and the total working time spent on the task will most likely be reduced. We will see how it goes once we begin to use to system," says Naaranlahti.
The system named IB ICON is currently being installed in the facilities of the hospital pharmacy. Further development of the system is also to be expected.
"We have undergone a long product development process together, which will continue with fine-tuning. The system will be customized to meet KUH's needs as well as possible. The first prototype was much simpler than the current system in terms of its functions. For example, it did not have a robot at all, but operated using cylinders and engines," describes Key Account Manager Jukka Mauranen from NewIcon Oy.
More information
Jukka Mauranen
Key Account Manager
NewIcon Oy
Tel. +358 50 549 1345
jukka.mauranen@newicon.fi
Toivo Naaranlahti
Hospital Pharmacist
Kuopio University Hospital Pharmacy
Tel. +358 44 711 3500
toivo.naaranlahti@kuh.fi
www.kuh.fi
Read more about our products:
For hospitals:
For retail pharmacies:
Would you like to stay updated on the latest news? Subscribe to our newsletter.