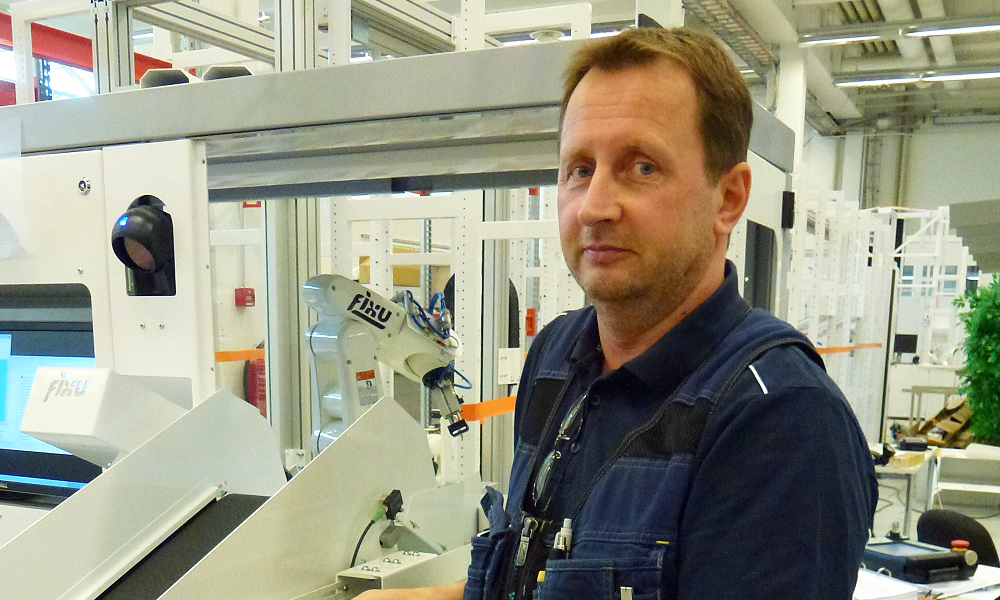 Our Kuopio factory employs 40 professionals in the field of health technology thanks to whom our medicine storage systems are already used in almost 60 community and hospital pharmacies in Finland and around the world. This column describes the stages that go into making Fixus.
Mechanic Veli-Matti Pirinen, what does your job involve?
I assemble Fixus in our factory and install them in customer facilities. I started working at NewIcon in 2007, so I have been here almost since the founding of the company.
How has NewIcon changed in almost 10 years?
NewIcon has grown a lot. In the beginning, I installed Iso-Fixus in pharmacies with our commissioning technicians and mechanics who were leased employees. Now there are about ten of us mechanics and we work in hospitals in addition to pharmacies. Another new development is that, in addition to Iso-Fixus, we also manufacture larger Mega-Fixus and many other automation products. Versatile projects make my work interesting. For instance, last spring I helped to install smart medicine pass-through cabinets in Kuopio University Hospital (KUH). Next, I will take part in assembling "Bag-Jack", or the loading robot for infusion liquids, which is the latest innovation of our product development team.
What has been the most memorable moment at work?
It was great to be involved in installing the world's largest medicine storage system in the hospital pharmacy of the Hospital District of Helsinki and Uusimaa (HUS). I can certainly take pride in that. The system is truly massive; it is four times bigger than similar systems in community pharmacies. I also remember my first installation in the Pielavesi Pharmacy where we delivered our very first automatic storage system. The best part about Fixus has always been that they come with a robot.
More information
Read more about our products:
For hospitals:
For retail pharmacies:
Would you like to stay updated on the latest news? Subscribe to our newsletter.