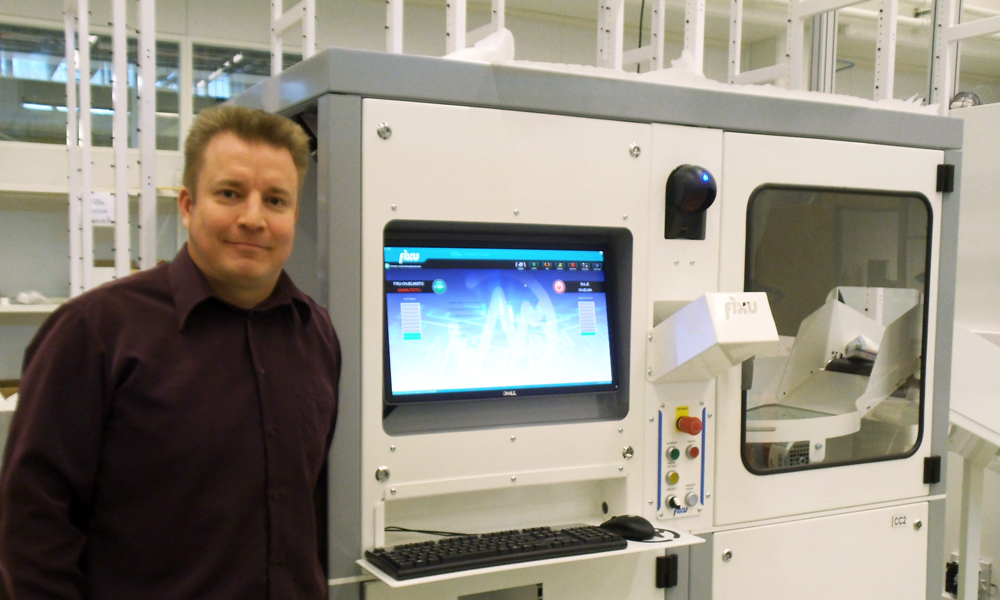 Our Kuopio factory employs 35 professionals in the field of health technology thanks to whom our medicine storage systems are already used in dozens of pharmacies. This column describes the stages that go into making Fixus.
Software Expert Tomi Hirvonen, what does your job involve?
I design PC software and architectures for Iso- and Mega-Fixu products as part of a software development team.
What is your typical day like?
The majority of my working hours go to planning meetings and software engineering. Once a project has reached the development stage, my workdays involve programming and module testing.
Near the end of the development stage, we begin integration testing to ensure the functionality of different software components, storage robots, box routes, and data systems as a whole. Extensive testing does take up a lot of time at this stage, as we strive to guarantee the quality of our products.
How does your team utilize customer feedback?
We aim to design our software so that it is easy to use and to utilize customer feedback as much as possible. At the Fixu user event last year, we noticed that many of the improvements proposed by customers regarding the Iso-Fixu software were already underway. This showed that we were going in the right direction, thanks to our whole team!
What has been the most memorable moment at work?
When the first medicine package went around the Iso-Fixu storage with the new software. I have not worked with robots before coming to NewIcon, so it was great to see how the software, the robot, and pharmacy data systems interoperate in practice. At the same time, I felt somewhat proud to be part of a highly professional and innovative software development team.
More information
Read more about our products:
For hospitals:
For retail pharmacies:
Would you like to stay updated on the latest news? Subscribe to our newsletter.