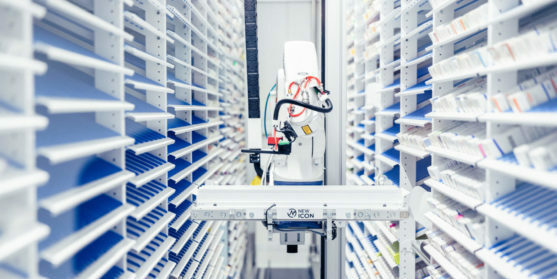 NewIcon's partnership with Shanghai General Healthy Information Technology Co. Ltd. (SGHT) has truly taken off.
General Icon, the joint venture of the two companies, started in spring 2018, and it has now delivered pharmacy automation systems to two hospitals operating in Shandong province in eastern China. A fully automated dispensing system has also been in demand – the first system was installed in a hospital in Beijing in June.
The joint venture of the two health technology companies is committed to purchasing hundreds of NewIcon's pharmacy automation systems from 2018 to 2022. Potential customers include 1,300 suitable hospitals in China and Hong Kong.
Out of the compounding systems agreed on, one is currently being commissioned at Shandong Province Cancer Hospital. Another system is being tested in the Qilu Hospital of Shandong University, which will receive an IV ICON Twins compounding system in September. The system prepares intravenous antibiotics for use.
"We also customised a version of our Fixu automated dispensing system to suit the medical services of Chinese hospitals. This version is called D-mini, and the first one was installed in a Beijing hospital in June. Another system is currently in production at our Kuopio factory," says Marja Jaurakkajärvi, NewIcon's Business Development Director.
Pharmacy automation the Chinese way
According to Jaurakkajärvi, pharmacy automation systems that suit the conditions in China are key in succeeding in the Chinese market. To make the systems more suitable for Chinese users, NewIcon has a local installation and training team in China. The team gets to know the operating environment and pays attention to the needs of the users.
"Naturally, a lot needs to be modified. To be effective, our team needs to sift out the most relevant needs regarding the functionality of our systems in a new operating environment, since we also get a lot of requests regarding cosmetic 'nice to have' details," Jaurakkajärvi says.
The hospital personnel has been enthusiastic and helpful towards the adoption of automation systems. When making medications manually, the personnel was exposed to hazardous substances. Thanks to the robots, this is no longer a concern.
"Our systems improve the safety of Chinese hospital personnel and reduce their workload," Jaurakkajärvi says, explaining the reasons behind the systems' popularity.
A local partner is an invaluable asset in China
NewIcon and SGHT have a shared vision of automation that makes hospital work more efficient and safer. It is NewIcon's responsibility to use both our expertise on robotics and our innovative capability based on user needs to make this vision a reality.
"These are the qualities that convinced SGHT to choose us as their partners. For our part, we want to be involved in the automation boom of Chinese hospitals. The next two years are crucial for us. It is important that we have a local partner that helps us find our place in the market as connections are the key to the Chinese market," Jaurakkajärvi states.
SGHT has been supplying more than 500 hospitals with its automation systems in the past few years. This existing, broad customer base opens a wide market for the pharmacy automation systems marketed by the joint venture.
"Our challenge is manufacturing our products even faster; our production times are too long to meet the expectations of Chinese customers. Something that takes a couple of months in Finland should be done in a few weeks in China," Jaurakkajärvi says.
Success in the Chinese market requires Finnish meticulousness and adherence to quality-control processes. However, a partnership with a Chinese company drives NewIcon to refine its operations to make the processes as quick and streamlined as possible.
"If we succeed, we have managed to reach an incredibly vast market. Our future looks bright, since we can expect our joint venture General Icon to sell enormous amounts of products. This will also help us grow in Finland. We believe we have every chance of becoming the market leader," Jaurakkajärvi says, summarising NewIcon's prospects.