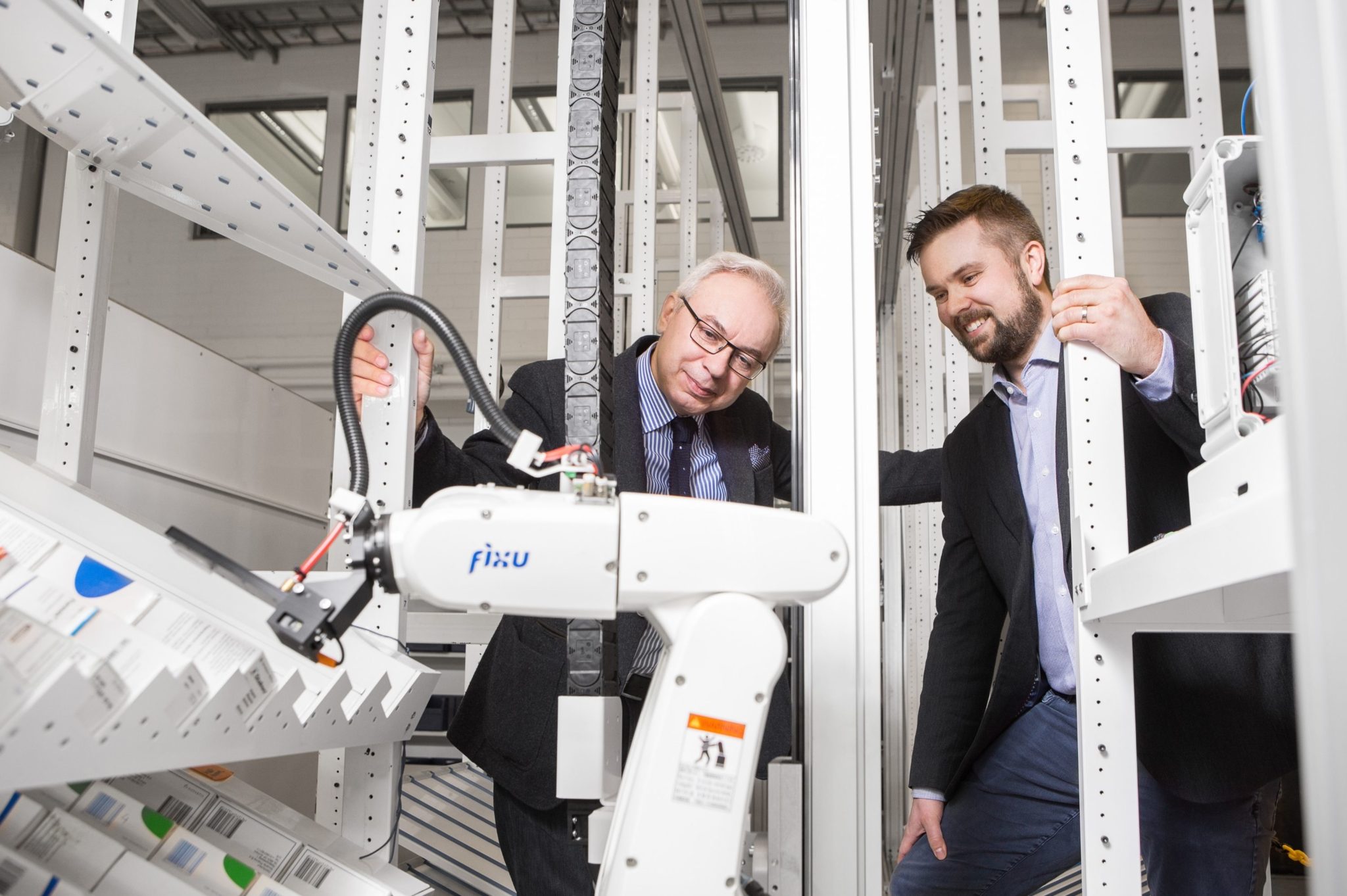 The story of Fixu automated dispensing systems began in 2008, when the first Iso-Fixu automated dispensing system was launched for the retail pharmacy sector. NewIcon's operations expanded to the hospital-pharmacy market four years later, when the first Mega-Fixu automated dispensing system was introduced at North Karelia Central Hospital in Joensuu. Back in 2008, at NewIcon, we wanted to develop and deliver efficient and durable automation devices to our customers – and 15 years later, we still want to do that!
The development of the Fixu G2 automatic dispensing system took place over a period of years that have shocked nations worldwide. During these years, our company, distributors, suppliers and customers encountered one challenge after another. The global COVID-19 pandemic, the Suez Canal blockage caused by a cargo ship, and most recently, Russia's invasion of Ukraine have presented significant challenges to our business, either directly or indirectly. During challenging times, faith in a brighter future, the trust of our customers, and positive feedback have motivated us to continue. Completing the development of the new automated dispensing system was far from obvious and easy. However, at no point did we give up; in Finland, we call this "sisu."
Speed, reliability, storage capacity, and user-friendliness were the features valued by customers who acquired Iso-Fixu systems 15 years ago. According to customer surveys, these same features are still valued. Today, in addition to these features, those considering the acquisition of an automated dispensing system also pay attention to information security solutions and software features. Both Iso-Fixu and Mega-Fixu systems still fulfill all these customer requirements.
Nevertheless, we decided to enhance the best automated dispensing system even better. We caused astonishment when we started uploading contributions to the development work of the next-generation automated dispensing system, even though existing devices were already in demand. However, our response to the skeptics was clear. By embarking on this development journey, we aim to strengthen our position among the leading automated dispensing system manufacturers and maintain our position as the first choice for those considering the acquisition of an automated dispensing system, both now and in the future.
But how can the best be improved? Increase speed, enhance storage capacity, add features, and reduce the size of the device. And once the development journey was started, we set the bar high. So, what did the development of the next-generation automated dispensing system require? It demanded shaking off rigid thinking about how automated dispensing system have traditionally handled medication packages and approaching things from an out-of-the-box perspective. In addition, a team with top expertise and years of experience in automated dispensing systems was needed. Luckily, we did not have to look far for it.
And this is how the next-generation Fixu G2 automated dispensing system was born.
The Fixu G2 automated dispensing system crystallizes the desires expressed by our customers. Speed, space efficiency, cutting-edge technology, and modern software features. Durability and reliability ensured by industrial-grade components. Thanks to scalability and the option to select additional features, the Fixu G2 offers a comprehensive solution that meets the requirements of both retail and hospital pharmacy customers.
Jori-Matti Savolainen
Chief Commercial Officer and Product Manager for Fixu Automated Dispensing Systems
at NewIcon A member of the NewIcon family since 2007
Learn more and download brochure